EXAMINE: Behind the Promotions Strategy for Les Ballets Trockadero de Monte Carlo
Take a look behind-the-scenes at MPMG's bi-coastal promotions strategy.
OVERVIEW
Presented by Show One Productions, New York's international sensation — Les Ballets Trockadero de Monte Carlo (Trocks) — is an all-male drag ballet company that has charmed audiences with their absurd comedic antics and serious dancing chops for more than 40 years. In support of the company's anticipated return to Vancouver and Toronto, MPMG secured a host of targeted community partnerships to heighten awareness and to generate excitement and enthusiasm for the hilarious ballet performance.

STRATEGY
To form mutually beneficial community partnerships with local, national, and international drag artists, organizations, and companies — further helping to educate, inform, and create high-level awareness of the production in both Vancouver + Toronto. All partnerships and promotions served a specific goal, namely: building awareness, driving website traffic, increasing e-blast click through + open rates, and lowering Facebook ad costs. All strategies were developed in close collaboration with MPMG's Digital + Media Relations teams, aiming to saturate targeted communities in both markets.
COMMUNITY OUTREACH
Outreach in both Vancouver + Toronto was vast and varied, and included special offers, on-stage announcements, community partnerships + exchanges, influencer collaborations, an integrated email marketing strategy, and a number of large-scale contests — all of which saw Trocks popping up in expected and unexpected places in both cities, while engaging and growing Show One Productions' audience. Highlights included securing partnerships with the global designer shoe brand John Fluevog Shoes, The National Ballet of Canada, JFL NorthWest, Ross Petty Productions, local Vancouver drag star Kendall Gender, and RuPaul's Drag Race runner up Brooke Lynn Hytes (who was once herself a dancer with the Trocks), among many others. 
RESULTS
The fresh approach and team's tenacity led to an incredibly successful and comprehensive promotions campaign in both cities. Vancouver saw a CTV Morning Live segment with local Vancouver drag star Kendall Gender and a large-scale video + content collaboration with John Fluevog Shoes.
Take a peek behind-the-scenes of the video shoot below!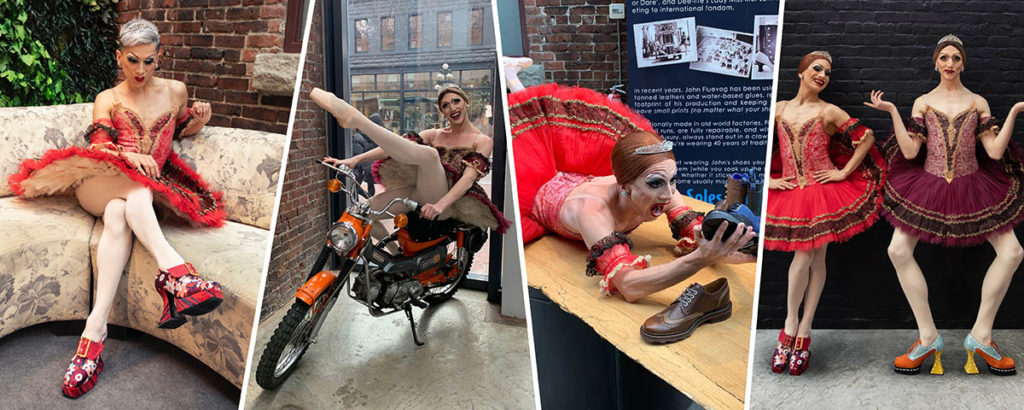 The Trocks + Fluevog collaboration, established to promote the Toronto engagement, resulted in a magical + hilariously on-brand video, widely shared amongst national audiences + designed to create serious FOMO. Within 36 hours, the Trocks + Fluevog collaboration received 43.7K+ video views and 6.2K+ engagements.
To maximize on Brooke Lynn Hytes reprising her role with the Trocks in Toronto, MPMG ran a series of digital ads, including a drag-themed quiz + contest that offered the unique opportunity to meet the Canadian Rupaul's Drag Race super star. The campaign received 1,803 website views, 729 entries, and 216 email subscriber opt-ins.
The promotions tactics employed  resulted in a packed Vancouver theatre, incredibly strong advance sales in Toronto, 25+ large-scale partnerships with a total of 70+ partner e-blast, social media + material exchanges secured in both markets, as well as 3.6K+ contest entries with 1.5K+ email subscriber opt-ins, 9.4K+ website visits, and 250+ social media shares through online activations — collecting valuable user data for future campaigns.
PHOTO CREDITS
Photos 1 + 3 by Sascha Vaughn. Photo 2 by Zoran Jelenic. Trocks dancers pictured in photos 4-7 left to right: Yeric Valentino, Joshua Thake, Yeric Valentino, Yeric Valentino + Joshua Thake.