DISCOVER: The books we love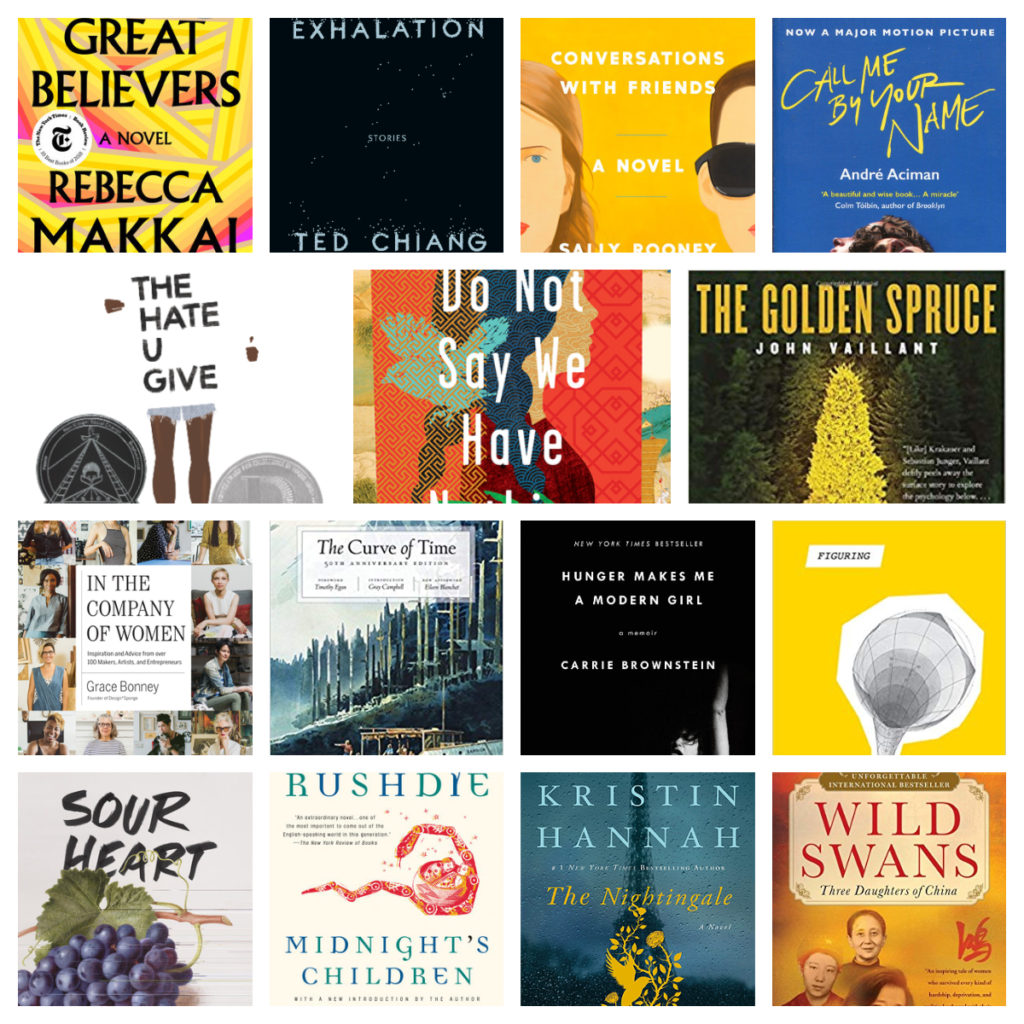 It's the fall, so what better time than to curl up with a good book.  Enjoy this curated selection from the MPMG team.
The Great Believers by Rebecca Makkai
Ashley Daniel Foot, Communications Associate to the Principal
This gorgeous book will leave you in puddles of tears. This haunting novel explores the limits of time and memory set against the backdrop of the AIDS epidemic in Chicago and contemporary Paris. I have rarely read a book that felt so alive, so devastating, and so poignant. Remember that great episode of Mad Men about the photo carousel? This whole book has that feel to it, and the characters will resonate with you long after you've (sadly) turned the last page.
Exhalation by Ted Chiang
Ines Min, Account Manager
Ted Chiang writes some of the most compelling contemporary sci-fi (he's the author of the short story that led to Arrival…yes, the one with Amy Adams). His new compilation of short stories, Exhalation, is a masterclass in world building, and he does it while beautifully weaving together musings on philosophy, ethics, and human nature. Chiang's characters stay with you long after the last page has turned. It's also worth noting he has some cool art-world cred: his collaboration with contemporary artists Allora & Calzadilla led to The Great Silence (2014). The text that he contributed to their video installation — and the many other fantastic stories in this collection — will make you weep.
Conversations with Friends by Sally Rooney
Laura Murray, Principal + Founding Partner
I had heard great things about author Sally Rooney, in particular about her award-winning second novel Normal People — I'm currently mid-book — but I decided to start with her first novel, Conversations with Friends. It's a book that shines with astute observations, theories, and quips about relationships, the world, and our place in it. Stripped down, it's a novel about adultery — a menage a quatre, in fact — with characters you easily and quickly fall in love with due to Rooney's vivid, truthful portrayals. It's at once seductively raw, emotionally honest, and fiercely real. I can't recommend it enough. You know it's a great read when you genuinely have a hard time saying goodbye to the cast of characters. I still think about them. But I was also excited to dive into Normal People and I find myself captivated once again by Rooney's uncluttered, free flowing writing, and deftly developed characters.
Call Me By Your Name by André Aciman
Ben Lange, Promotions + Social Strategist
As a lover of the Oscar-winning film (and Sufjan Stevens' gorgeous songs) I was nervous to read this book of young love on the Italian Riviera. Aciman's book is something else entirely — it's deeper and more detailed than the wonderful film but also sexy, funny, and passionate on its own terms. Rarely has a book made me stay up all night, but this one got me with its spellbinding prose and sensuous language. Hot in every sense.
The Hate U Give by Angie Thomas
Angela Poon, Communications Coordinator
A story about racism, prejudice, and the power of finding — and speaking — one's inner truth. Narrated by a black 16-year-old girl who bears witness to the fatal shooting of her unarmed friend by a police officer, the YA novel unpacks the burden that systemic racism places on relationships, families, and entire communities, and the strength and courage it takes to fight against it. I loved this book because it was gripping and heart-wrenching, while also uplifting and full of love — offering a nuanced, insightful perspective on a complex and urgent crisis plaguing today's society.
Do Not Say We Have Nothing by Madeline Thien
Ella Batten, Account Manager
Taking place both in revolutionist China and Vancouver in the 90's, Do Not Say We Have Nothing dances between generations, countries, truth, and stories. It follows the lives of musicians before, during, and after Tiananmen Square, and a daughter's attempt at unraveling her father's past. Do Not Say We Have Nothing is an expansive novel, exploring the tension between society and individuals, the sacrifice of goals for revolution, and the power of dreams. It is about music and family. I can't fully explain this book. All I can do is tell you to read it.
The Golden Spruce by John Vaillant
Brian Paterson, Head of Digital + Marketing/Partner
The Golden Spruce is a rare piece of nonfiction, following the inexplicable actions of an erratic logger-turned-environmentalist who cuts down a tree that is sacred to the people of Haida Gwaii. More than just one man's story, however, the books offers a rich history of how British Columbia came to be through the logging industry — and offers a profound meditation on why mankind's relationship with nature so often leads us to destroy what we love.
In the Company of Women by Grace Bonney
Emily Peck, Marketing Coordinator
This book captures insightful interviews and images from 100 innovators in their unique industries and disciplines. An inspiring desk-side companion that could be read cover to cover, I often will simply open to a random page to experience a new creative process, revealing an "ah-ha" moment that provides fresh perspective to an ongoing project of mine. From poets and potters to entrepreneurs and executives, I enjoy kick starting my morning coffee routine with these strong, brilliant, and influential souls.
The Curve of Time by M. Wylie Blanchet
Jesse Tanaka, Digital Manager
A Canadian classic set on BC's West Coast. In this memoir, a mom is left widowed in 1927 and decides to pack up her five children for life on a sailboat. It felt like the right choice in the nerve-racking time before my son was born. I thought, if she can handle five on a boat, I can surely handle one on dry land.
Hunger Makes Me a Modern Girl: A Memoir by Carrie Brownstein
Pamela Churchill, Digital Strategist
A poignant, beautifully written look into Carrie Brownstein's life, before and after becoming a feminist punk-rock icon through her band Sleater-Kinney. This memoir is a must-read for anyone interested in the underground feminist movement of the 1990s and the power of music to change lives.
Figuring by Maria Popova|
Michael Zarathus-Cook, Communications Coordinator
Figuring is the realization in print of Maria Popova's literary blog, which she's maintained on a weekly basis for the last 12 years! In this nearly 600-page book she conducts an expansive survey of the last four centuries of scientific developments and artistic expressions of Enlightenment values. The unique feature of this survey is that it's carried by a narrative that focuses primarily on the life and times of lesser known — but very important — queer and female scientists, beginning with Maria Mitchell and ending with Rachel Carson. Popova's exceptional ability to form parallels between the lives of scientists and social activists, separated only by time and space, keeps the pages turning at a sprightly pace.
Sour Heart by Jenny Zhang
Christina Luo, Digital Coordinator
A series of short stories about the Chinese-American immigrant experience, but with a twist. Zhang's protagonists are young Chinese daughters of artists who escaped the Cultural Revolution to America during the 1960s, only to struggle through poverty in New York City. I personally related to the seven raw stories portrayed through the eyes of these girls, but it's a must-read for anyone who wants poetry weaved within prose, featuring dark humour and "intimate renderings of girlhood" and family. Bonus fun fact: Zhang was one of Rookie Magazine's original writers.
Midnight's Children by Salman Rushdie
Sarah Ghosh, Account Manager
This book tells the story of Saleem Sinai, born at the stroke of midnight on August 15, 1947, the moment of India's independence. Saleem finds himself mysteriously handcuffed to history by coincidence. Blessed with remarkable telepathic and olfactory powers, he is linked to India's 1,000 other "midnight's children," all born in that initial hour and endowed with magical gifts. Saleem's life experiences become a metaphor for the political, social, linguistic, and cultural strife that face this newly independent country. Rushdie's lush imagery and breathtaking prose immediately transported me on a gripping and magical journey over 31 years through historic India, accompanied by a host of delightfully heartwarming, comedic, dangerous, and beautiful characters. If you share my love of postcolonial literature you will definitely relish in this epic tale.
The Nightingale by Kristin Hannah
Angela Vannatter, Communications Coordinator
Painting the chaos, fear, and sacrifice of World War II in The Nightingale, Kristin Hannah shines a light on the women's war taking place simultaneously, yet hardly recognized during this critical time in history. Sisters Vianne Mauriac, a mother and wife, and Isabelle Mauriac, a political rebel, lead very different lives in response to the conflicts they face in society, yet share a sense of determination to better their futures in a time of profound oppression. Hannah depicts the incredible resilience of women, whether their feminist action takes place in the home or on the front lines of the battle. Fuelled by passion under the restraints of circumstance, Vianne and Isabelle continue to inspire me in today's political climate as their tenacious character portrayals can be related to those of the modern-day woman.
Wild Swans – Three Daughters of China by Jung Chang
Dale Allison, Operations/Accounting
This book is a fascinating read that sheds light on what life, over three generations of women, was like in China through the country's terrible 20th century. Providing real-life stories, Chang writes about her grandmother's early years as a concubine of a warlord, her mother's childhood spent under Japanese occupation, and the rise of Chairman Mao and the Cultural Revolution.
Categories: MPMG